UPDATE Oktober 2020
I have now sold the CCM! I got so pissed with the bike and it´s intermittent starting problems, when you need a car battery to get it going, that I sold it back to the dealer much under the value. It doesn't make sense keeping it, if I can't rely on it. So now the CCM will from time to time explore the forest of Hälsingland around NCCR.
UPDATE CCM 450 GP ADVENTURE
After two years with the CCM here a summary of my experiences.
When I first saw the white prototype some years ago I felt almost immediately in love with the bike. So far no other manufacturer offered a comparably light adventure bike. Sadly enough the CCM 450GP Adventure has huge design and quality flaws.
The good thing about the bike is the engine, which I am convinced will work some more years. Also parts should be available from BMW.
The worst part of the bike is the electrical system. Batteries are frequently flat without explanation. Just look at the cable chaos behind the front fairing and you might get an idea why. Also a 180W alternator is simply underdimensioned to drive the bikes vital functions plus GPS, heated grips, aux lights etc. On both other Swedish bikes the enhanced alternator had been installed, but was defect within a few months. In the cold the LiIon battery is simply giving up. These problems are well documented by numerous users.
The plastic parts like the front tanks are extremely hard to fit, once you needed to remove them. And the concept of three interconnected tanks adds a big risk of loosing a lot of fuel if you need to do a field repair or puncture one tank in a crash. I told CCM right from the beginning that the Rally-Raid tank design of the 690, were every tank is connected with a self-sealing connector and has a valve, is superior, even if you need three filler caps.
Also the expensive luggage is a waste of money – an open zipper in combination with dirt is a no-go for an adventure and travel bike. I cancelled my order already in the factory, when I saw the first prototypes.
For two years I was a strong supporter of CCM and the bike, even found them a dealer in Sweden and flew to England to visit the factory. Now the factory seems to block any warrant claims and offers no support after the warranty has expired. Some obviously problems, like my problem to get the engine started at temperatures around freezing, are refused as "out of specification use"! I am not alone, many other uses have contacted me who also have massive problem. On request I can send you a complete list of all the failures.
So sadly my summary is: great concept, no consultation of people experienced with long distance travel, serious design flaws and recently a lack of after-market support. Would I buy it again: certainly not.
Fortunately I have a very helpful dealer, but he can't do much without factory support.
—————————————————————————–
Since I own one of the few around, I wanted to introduce you to my
CCM 450 GP Adventure "nordicbiker edition"
When that bike was presented in some motorcycle shows in 2014 I immediately felt in love with it. The idea of a lightweight adventure bike, which can carry enough fuel for 400km, offer good performance on road and off road and which is completely road legal was striking to me. So I started communicating with the factory in Bolton UK and found them a dealer in Sweden: Nordic Customs Classics and Racing in Delsbo. Owner Jens Krüper proved to be a creative head who was open for all kinds of suggestions and modifications, to make the bike even more travel worthy.
I won't list all the technical detail, those can be found on the CCM homepage:
http://www.ccm-motorcycles.com
CCM is a very small privately owned British bike manufacturer, with a long history which is mostly unknown outside of Great Britain. I had never heard of them before, but could quickly build up a good relation with the guys there. My own bike was then delivered just in time for the Stockholm Motorcycle Show in early 2015. Since then I have been riding the CCM about 13.000km, among those a four week 4500km trip through Norway and numerous weekend trips.
The following extras were ordered from the factory:
-manually adjustable rear suspension (preload)
-adjustable windscreen
-metal engine guard
-metal radiator guard
-soft luggage rack (replaced, more on that later)
-exhaust dummy as tools storage container
-main center stand (absolutely useless design, later removed and reimbursed)
-cush drive for rear wheel
-heated grips
The original bike has however some week points, one of which is the back part. The underseat tank needs to carry a part of the weight of your luggage, so NCCR constructed and manufactured a pannier rack which massively reinforces the bikes back and leads some of the forces in the foot peg mounts. Now the underseat tank is carried by the back frame, not vice versa. The pannier frame could be used with metal boxes, but I prefer soft luggage, either Wolfman, Giant Loop or Enduristan, to keep the weight and injury risk down.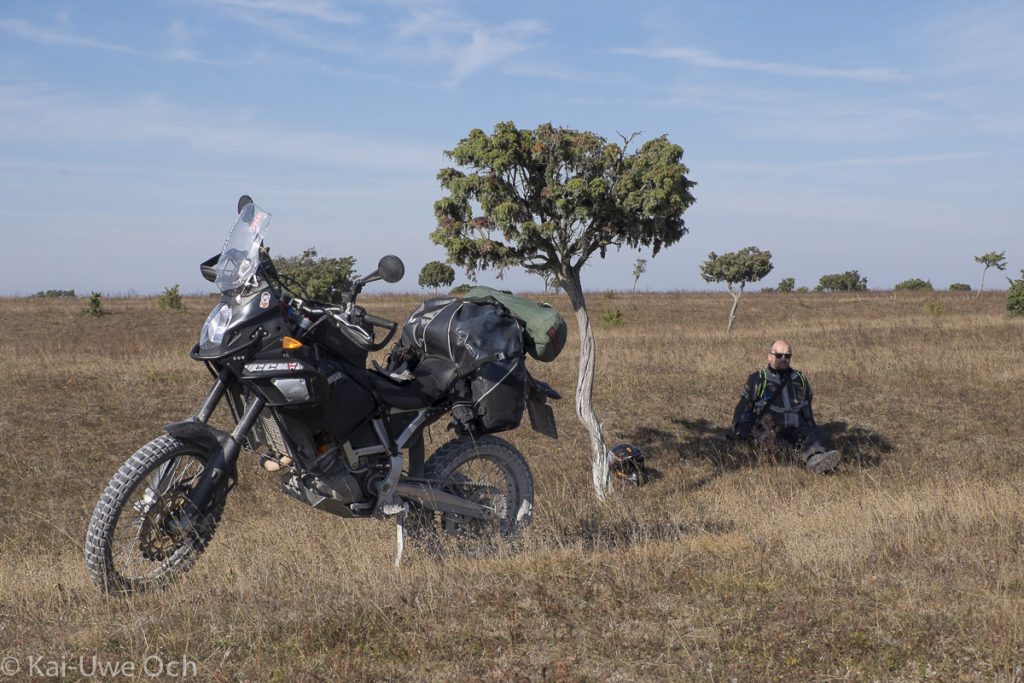 The second big modification was the design of a tank crash bar, which protects both side tanks in case I go down in the dirt.
This is also one of the weak points of the bike, which I have discussed with the guys at CCM. The bikes three tanks (main 10 liter underseat with filler at the back, plus two 5 liter side tanks) are connected with 1″ tubes, so that you can quickly fill all of them at once. This however would also lead to a massive fuel loss in case only one tank is punctured: you are likely to use ALL the fuel in all tanks, if you are not quick to somehow fix or tilt the bike. It also makes it more complicated to service the bike, because fuel will spill out once you remove one of the side tanks. There are simply no self sealing quick connections available on the market of that dimension.
My suggestion is to go back to the design I had on a KTM 690 with Rallyraid tanks: connect the two side tanks with 6mm tubing and a shutoff-connector plus shutoff valves. Then all three tanks need an individual filler, but believe me: it's not so much more time consuming to fill three tanks than one and it would make maintenance much easier. You could then shut off one of the side tanks in case of a leak. The main tank anyway needs to stay intact because it contains the fuel pump, but is well protected by the pannier rack.
My bike with serial number 40 was one of the first to leave the factory and it had some minor glitches, most related to the electrical system. Luckily I followed Jens Krüpers recommendation NOT to order the stronger alternator, which tends to burn due to insufficient cooling. Instead you need to keep your electric consumers to a minimum because the standard alternator only delivers 180W (my Africa Twin 400something). We also replaced the lightweight LiIon battery with a standard lead battery, because I had two occasions at low temperatures were the bike didn't want to start. LiIons simply don't like slow Scandinavian temperatures, neither in operation nor in charging. The bike has also received front and rear LED indicators (on the front with white positioning light and on the back with additional brake lights) and a LED high/low beam upgrade.
The main advantage of that bike is the low weight, mine is fully fueled below 160kg. That is my own bodyweight less than the Africa Twin! This is also the reason why I am not afraid to try paths and trails on the CCM, which I wouldn't dare on any heavy bike, not knowing if I get stuck and how I should then get the bike running again on my own. I have proven and documented that I can lift the CCM even with one arm only! The general rule for and adventure bike should be: If you can't lift your bike alone, then it's too heavy for you and you need to get something lighter!
160kg and 41hp is sufficient!
I have also published a first year review about the CCM on Youtube
Youtube: CCM 450 – first year review